---
Easter Cantata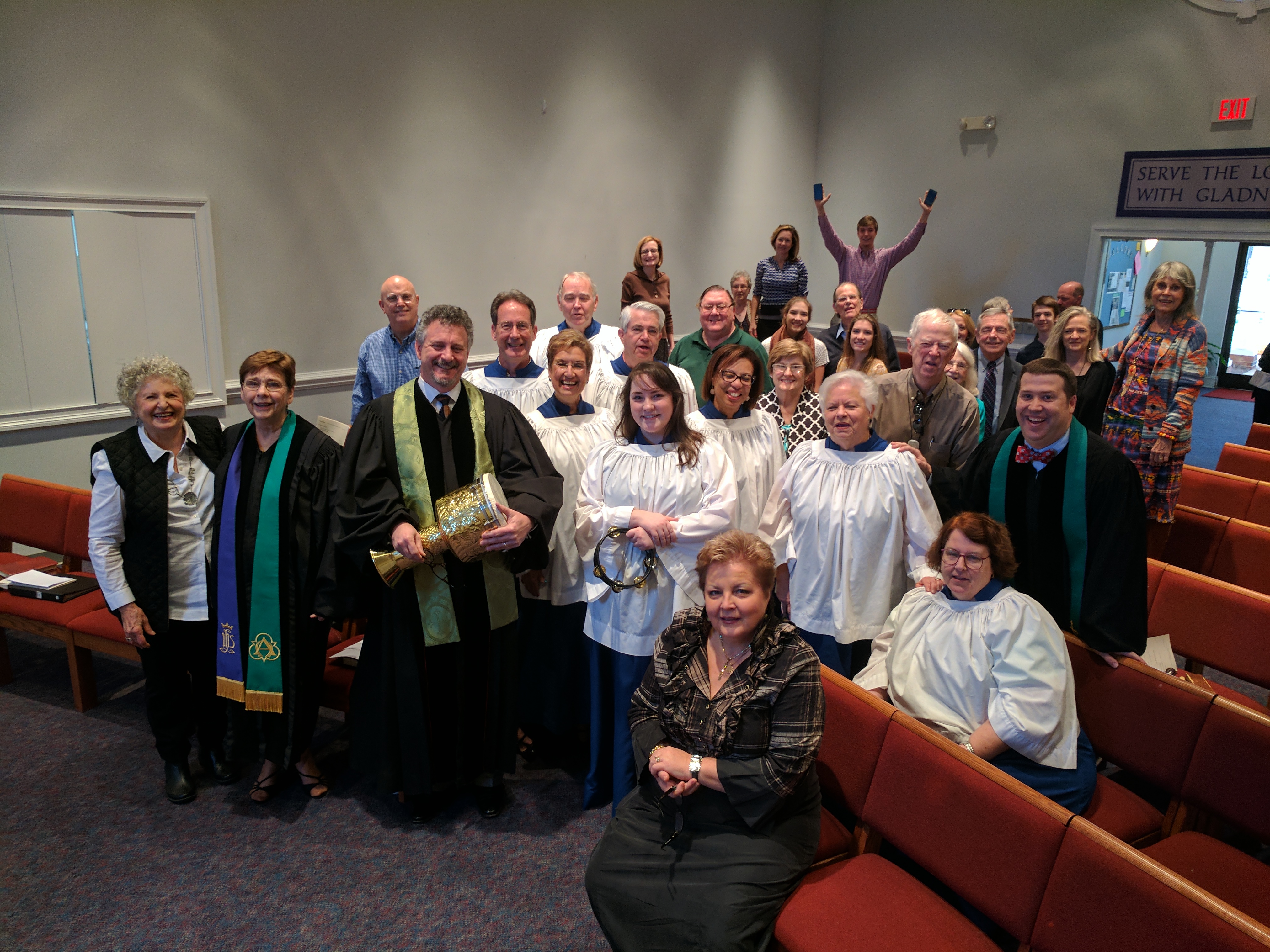 Palm Sunday Cantata Message and Texts
3-25-2018
Sardis Baptist Church, Charlotte, NC
Hilary Kearns and Bob Stillerman
Here are the readings for the Easter Cantata. The lyrics to the songs are in the link about.
Blessed is He
For generations, pilgrims traveled to the sacred city, and as they took their last steps toward its gates,
YHWH's temple appeared on a majestic hill. And the pilgrims sang, "This is the day that the Lord has
made; let us rejoice and be glad in it. Blessed is the one who comes in the name of the Lord. The Lord is
our God, and our good God has given us light."
On this particular day, Jesus entered the city gates. He was riding a donkey. Many people spread their
cloaks on the road, and others spread leafy branches that they had cut in the fields. Then those who
went ahead, and those who followed, they were filled with God's spirit; they seemed to realize they
were in the presence of someone special, and they shouted, "Hosanna, blessed is the one who comes in
the name of the Lord!"
A few days later, Jesus gathered the disciples in an upper room. And even though they would betray
him, he would not betray them. He told them that he loved them. And he told them that they mattered.
And he said, "Sit down and eat with me. This bread is my body, and this cup is my life force, and each
time you share this bread and cup with one another, you share me, you share my spirit, you share
yourselves." And they ate together. And then they left that place singing.
(Psalm 118: 19-29; Mark 11:1-11; 1 Corinthians 11:23-26)
Do This and Remember Me
Then sings my soul my savior God to thee – How great thou art, how great thou art!
Amazing grace how sweet the sound that saved a wretch like me!
Morning by morning new mercies I see
All I have needed thy hand hath provided
Great is thy faithfulness Lord unto me!
We don't know what they sang, but we know they left that place singing. And they went out to the
Mount of Olives, and then to Gethsemane to pray.
It was a difficult evening. Jesus prayed with a mixture of vulnerability and faithfulness; He prayed as one
devoted to his calling, and yet anxious of all that it entailed. He needed friendship. He needed
comradery. He needed a rock.
But the Rock was not yet ready, nor were the other eleven. And when the authorities came to take him,
and seal his fate, his friends and table-mates had abandoned him. And surrounded by a crowd of the
self-deemed righteous – the chief priests, and officers, and temple police – Jesus wondered aloud, "Here
in darkness, you come armed with swords and clubs, and treat me as a bandit? But when I walked and
talked in the temple, you let me be."
And Thursday has become Friday. And Friday is long. Too long. The silence reminds us of all we had. It
reminds us that God lived among us, and we did not see Him. We would not see Her. The air is thick and
heavy. And we wait for something more, not yet sure that something better will come along. And the
garden has lost its blooms.
(Luke 22)
Via Dolorosa
Palm Sunday is triumphant. Branches held high, hosannas shouting from our lungs, we believe in God's
unlimited possibilities. The world is good.
And then Friday comes. And Rome injects its authority, and pounds its fists, and seems to say, "Oh no
you don't! The world can't be like that. We won't allow it!"
It's been a year of marches – marches for women, and for lives free of gun violence, and for pride, and
to stamp out hunger, and to assert other rights Rome would seek to trample.
I wasn't there that first Palm Sunday, but I wonder if that initial march into Jerusalem had the kind of
energy and enthusiasm and electricity that's been palpable as thousands of Charlotte's residents have
marched together in the past year, seeking to be a voice for those whose voices haven't been heard?
And I wasn't there that first Good Friday, but I imagine the arrest and trial of Jesus would have been
deflating. I wonder if it felt to Jesus' followers like the day after our little marches, when despite our
pleas, and despite our hopes, more guns still show up in schools; and more gay and queer and
transgender neighbors are still bullied or discriminated against for their perceived differences – for their
refusal to be like US; or more school children still go hungry or walk miles and miles for clean water; or
more women are denied access to proper healthcare, or shunned and shamed for their audacity to seek
such care; or that in 2018, our communities are just as segregated, if not more segregated than they
were in the height of the Civil Rights Movement?
We have known Palm Sunday. And we have known Good Friday.
If we are to make it to next Sunday, we cannot be content to simply wave the palms of justice. We must
be willing to bear the crosses that come once we lay down our palms and follow Jesus. It doesn't mean
death, but it most likely means discomfort – a denial of all the privileges that Rome's power doles out to
keep things from being too messy, and to keep too many voices from growing too loud.
But worry not. A table steels us. And it's always open. And we're always invited.
And that table has produced a line of strong women, and strong men, people who've experienced their
share of Fridays. Like Jesus, they didn't put their faith in Rome, they put their faith in God's possibilities.
And though Friday always came, so too did Sunday. And faith, mixed in with a whole lot of love, rolls
stones away. And in case you didn't know it, justice grows fat on rolling stones.
Friday is here. But God has equipped each of us to help make it Sunday. As Carlyle Marney was fond of
saying, "We've got to faith it." Well friends, let's get to it!
In the Shadow of the Cross
Be at Peace
Jesus comes to Jerusalem, the city nearest you.
And he sits at a table.
And we're all invited.
Kingly, he takes a towel and washes feet.
With majesty, he serves bread and wine.
With honor, he prays all night.
With power, he puts on chains.
Jesus, King of all creation, appears in state
in the eyes of the prisoner, the AIDS orphan, the crack addict,
asking for one cup of cold water,
one coat shared with someone who has none,
one heart, yours,
and a second mile.
Jesus comes to Jerusalem, the city nearest you.
And he sits at a table.
Can you see him?
If you do, will you sit with him?
And will you eat with him?
And will you talk with him?
(Taken and modified from a poem by Carol Penner: Jesus Comes to Jerusalem the City Nearest You)
The Song Lives On, Hallelujah
Recent Sermons
March 14, 2018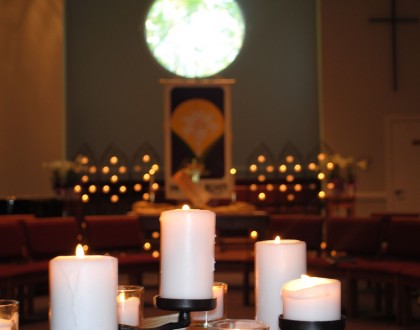 March 05, 2018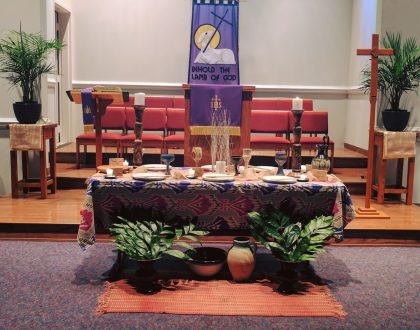 March 05, 2018